Directory & Wayfinding Models
Sprocket's beautiful range of Australian designed and manufactured Digital Directories and Wayfinders are in a class of their own. Featuring stunning design and innovative software, Sprocket products are seen in all the best buildings.
Digital Directories are now a key component part of any new or refurbished building for both their visual impact and value add applications. Find out why and more and more architects, owners, specifiers and building managers are selecting Sprocket as their preferred digital directory and wayfinding supplier.
Architect Series
The Architect Series embodies the very best in contemporary architectural interior design. Elegantly designed and beautifully engineered in aluminium and steel this series provides designers and specifiers with the ultimate flexibility of finish, colour and location.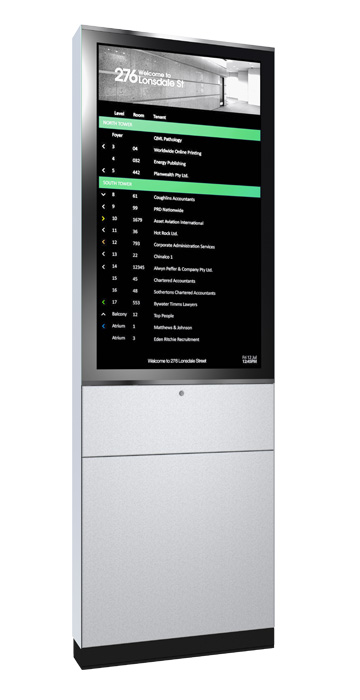 Standard Series
Wherever budget or space is at a premium, Sprocket's Standard series provides the perfect solution without sacrificing quality or style. Featuring the highest quality screens and secured in a lockable enclosure the Standard series is indeed first class.
Software
Sprocket's locally developed and class leading Directory Software is pre-installed on all our hardware solutions. Available as Fastfind Display, Fastfind Touch and the all new Sprocket Direct they are built to provide the ultimate in visitor engagement.
We believe Wayfinding has been revolutionised by our radical Sprocket Go software which utilises the latest gaming technology advances to provide a 3 dimensional mapping experience.
Check out our Directory and Wayfinding software you won't be disappointed….