Building Directory Software
Sprocket's renowned Fastfind Display and FastFind Touch building directory software is designed to both enhance visitor experience and make it easy to manage content from virtually anywhere.  FastFind Display and FastFind Touch building directory software can be quickly customised with the easy to use browser admin module. You can modify the basic look and feel of the display content either at the Directory, or remotely from anywhere.
In keeping with Sprocket's commitment to developing world leading technology we are soon releasing our ground-breaking Sprocket GoDirect* building directory software. A hybrid display/touch solution using the latest generation gaming technology, Sprocket GoDirect* provides a media rich and truly engaging customer experience. Contact us now for pre-release information.
FastFind Display
The FastFind Display directory software is intended for installation on a non-touchscreen display. It is designed to show all building tenants in a simple and customisable interface. It can be deployed in landscape or portrait orientations on single or multiple displays. FastFind Display is the most popular system on our directories. It is perfect for small buildings or offices that do not require a touch enabled search function in their building directory.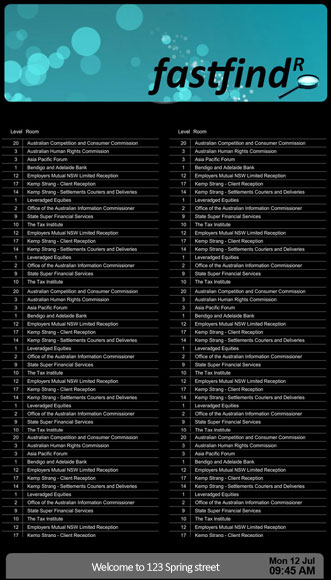 Add, edit, hide & delete tenants.
Line and screen transitions
Single or dual column view
Single screen or multiple screens
Self-contained and locally hosted.
Display top and bottom banners (Advertising / Branding).
Display RSS feeds or messages.
Easy to install and maintain
FastFind Touch
With FastFind Touch you can easily search for building tenants, and display an unlimited number of tenants. Building on years of experience in creating digital directory systems, we have included functions that actually make a difference. FastFind Touch can be deployed in landscape or portrait orientations and on single or multiple displays. FastFind Touch suits buildings or organisations that have a need to manage a large number of tenants.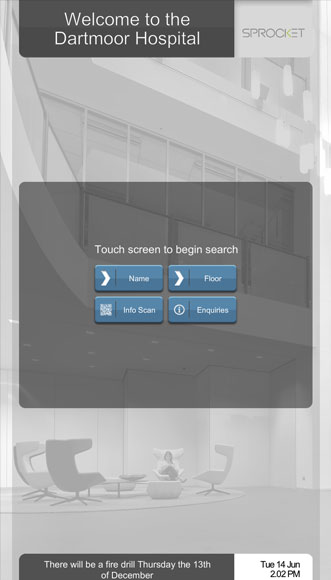 Touchscreen navigation
Add, edit, hide & delete building tenants.
Self-contained and locally hosted.
Set screen saver function (Advertising / Branding)
Create customised individual tenant pages
Search by floor or by name
Add custom screens
Add customised messaging
Sprocket GoDirect*
Sprocket GoDirect is a bold new direction for digital directories. Built on an industry leading gaming platform Sprocket GoDirect incorporates the latest technologies to deliver fast, efficient and responsive performance. New from the ground up this innovative digital directory software includes swipe touch, rich graphic animations, timing control, improved content management, and of course all the standard features that Sprocket has been including for years.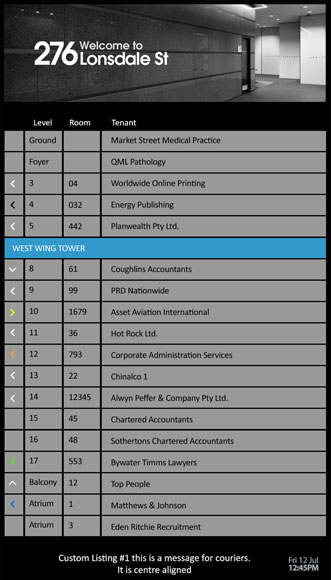 Support up to 4 columns, unlimited rows
Dynamic Landscape or portrait orientation
Events and room booking display option
Touch swipe enabled
Rolodex drag function
Advanced content management
Supports video
Global scaling
Animated screen transitions
Wayfinding
Sprocket has used its extensive experience in the development of Digital Directory software and taken it one step further with the revolutionary SprocketGo Wayfinding software. Utilising latest generation gaming software with 3D mapping, SprocketGo provides a user experience that removes the confusion from knowing where you are and where you want to go.  The initial deployment of SprocketGo at the new Victorian Comprehensive Cancer Centre has proved to be an outstanding success and subsequent developments have added features that enable real time pathway generation and destination asset identification.
SprocketGo can be customised at a fraction of the cost and time of conventional Wayfinding software and coupled with Sprocket's stunning directory designs SprocketGo is in demand for deployment at other hospitals, shopping centres, university campuses and corporate estates.
Contact us to ask how we can assist you with your Wayfinding solution!