Sprocket go Building Directory Projects
Over the years we've had the privilege of assisting clients solve a complex range of digital directory requirements, with an eye for meeting the solution in the simplest way possible, while maintain that X factor for which Sprocket is renowned. Sprocket solutions are now found in the best buildings and highest profile tenancies in Australia and the world. Below are just a few of our clients and projects we have brought to fruition over the years.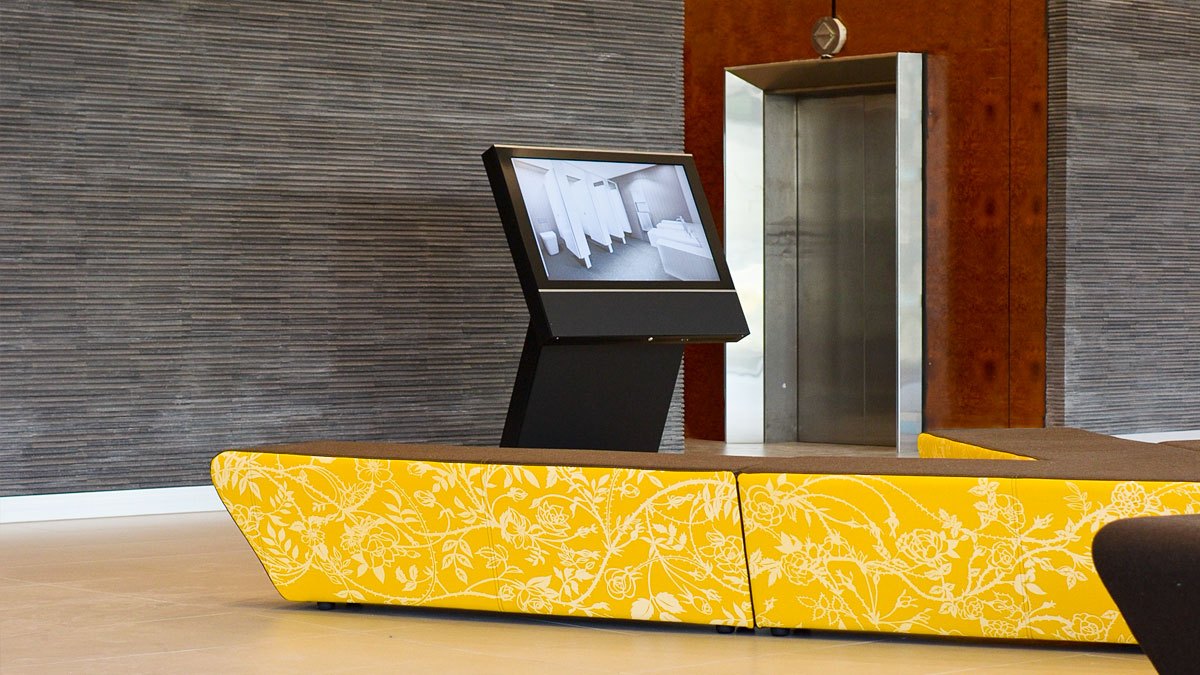 Touchscreen Directory at 636 St Kilda Road Melbourne
The Sprocket FastFind Touchscreen Directory software was developed in-house especially to meet the needs of our Digital Directory customers. Drawing on years of experience we incorporated the most popular and effective features to deliver a simple to use but powerful directory solution.
The installation at 636 St Kilda Rd was a part of complete refurbishment of an existing building. The developers wanted the latest functionality and a modern eye catching directory. The T46 FL Touchscreen Directory directory looks right a place in the modern and spacious foyer.

Directory Upgrade at 555 Lonsdale Street Melbourne
Sprocket was commisioned to install a new directory in the heart of Melbourne's legal district at 555 Lonsdale Street. Whilst the directory itself retained the clean, elegant lines of Sprocket's original Architect Series range, the software was in need of an upgrade. The tenants are primarily barristers chambers and when our team suggested to the managing agent, Knight Frank, that with our latest SprocketGO Live version the tenants could be updated remotely and instantly by our in-house Support team [saving multiple hours of the client's staff time] the answer to the upgrade offer was a definite yes. SprocketGO feature a huge range of screen design templates that can be customised to suit any environment or corporate branding, further adding to the sophistication of today's contemporary building foyers of which 555 Lonsdale Street is no exception.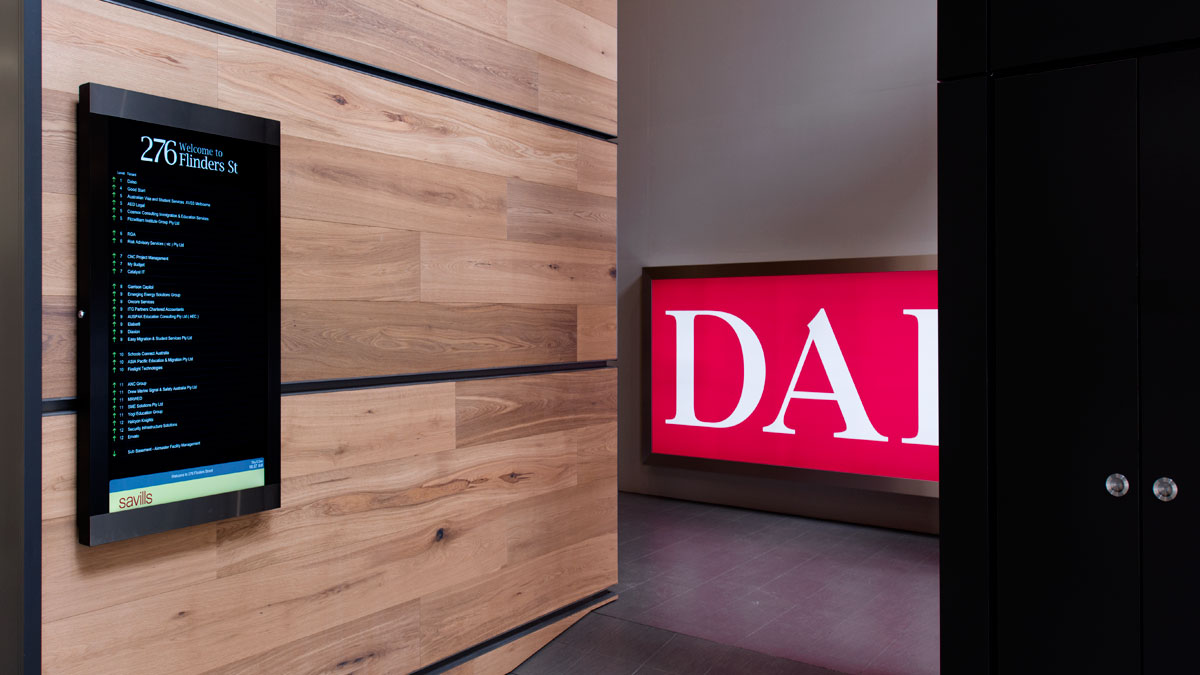 Integrated Directories at 276 Flinders Street Melbourne
This wall Mounted digital directory at 276 flinders street sits in the heart of the Melbourne CBD. The re-refurbishment of this established commercial space features a spacious foyer with dedicated cafe leading to lifts and escalators. The need for a digital tenant directory here is obvious. The Sprocket Directory blends well with the materials and fittings chosen for the entrance space. The sleek black powder coated and stainless steel directory makes a bold statement against the wood paneling and grey tiled floor. This particular installation called for the fitting od smaller 'slave' directories on the upper level lifts. These smaller displays just show the tenants on the individual floor.
I ordered my first directory board through Gerry and the team at Sprocket, they stepped me through the process of design, install, are competitively priced and the follow up service is second to none.My board is based in Sydney and Sprocket is in Melbourne. The 1200km's is no issue to these guys. I will use them for all my future works and I strongly recommend them.

Peter George
04:54 24 Jul 19
Sprocket supplied a 55 inch landscape directory board to our new A-Grade Commercial Office building in Burnley. Very happy with the results, professional and committed service all the way through.

Peter Sullivan
23:54 23 Jul 19
The Support team assist very promptly and the admin site is easy to use.

Tangerine Schweizer
06:49 23 Jul 19
The support staff are fantastic, very helpful and always prompt to fix any issues.

L Hilly 4x4
00:22 23 Jul 19
Great support. Great team. Highly recommend!

Adam Myers
00:21 23 Jul 19
We evaluated the market for tenant boards for our office building - found the sprocket team to be easy to deal with, happy to please and they product looks great and is great value.

Great service and they really helped us setting up a tenant directory board, which really looks great.

Marcus Littlewood
23:22 22 Jul 19
Sprocket is my go to supplier for great looking, well priced, easy to install, easy to use directory boards. They are a great team at Sprocket and as it is an Australian product, it is especially appealing to clients who want to support Australian Suppliers. The software is easy for clients to maintain and the Sprocket support team are fast to respond to any queries. A major plus is that the base images can be changed to reflect client upgrades without cost. Changes can be implemented via the easy to use software. We cannot speak highly enough of this great product and have used it in several major buildings in Sydney's CBD. Go SprocketGO!!