Got a problem? Sprocket finds solutions
We make it our business to stay on the forefront of technological trends. Meaning we find smart solutions to complicated challenges. Led by Gerry Mussett and Cheryl Fraser who are among Australia's foremost industrial designers, the Sprocket design team has decades of combined experience in product design, engineering and volume manufacturing to transform your idea into reality.
With an unparalleled track record of successful product development programs for major companies such as IBM, Crown, McDonalds, Telstra and currently with Melbourne Stadiums Limited and Samsung, Sprocket is perfectly positioned to be your technology partner of choice. Just why Sprocket is so unique is because we can also draw from our own vast experience in designing and manufacturing our globally successful range of technology products…there is not a trick in the book that we have not encountered and overcome.
It makes sense to partner with the best and with Sprocket, you indeed have a formidable partner in enterprise level development.

Etihad Medallion Club Smart Seats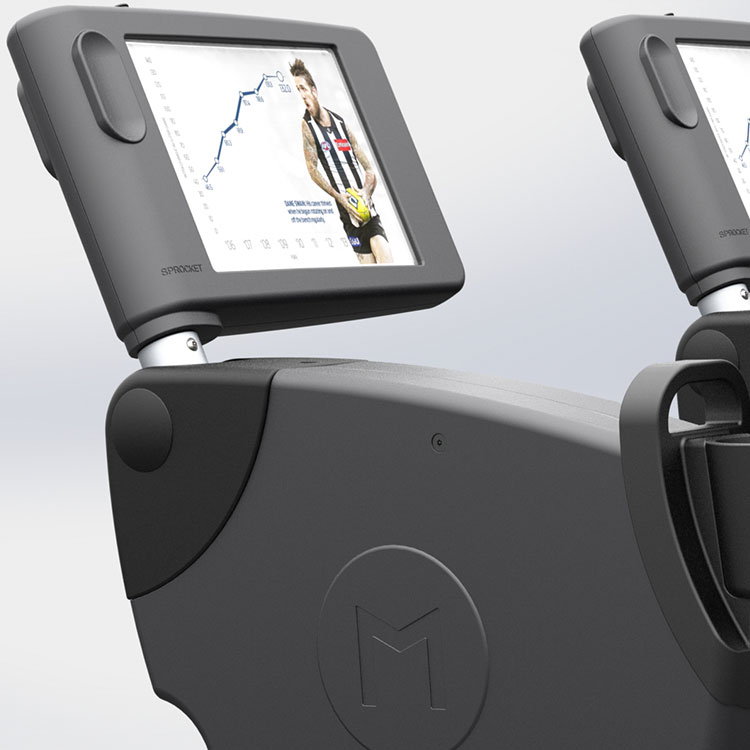 Sprocket were approached by Melbourne Stadium Limited with the challenge of incorporating a domestic tablet, the Samsung S2 into the Stadium seating system. The solution had to be robust, water resistant, and easy to use. It was a challenge Sprocket's design director Cheryl Fraser accepted with relish.
After months of late nights, design revisions, development, testing and prototyping, the elegant solution was finally completed and signed off. Injection-moulded parts and metal components started rolling off the production line in May 2016 and in a high-paced but precise fortnight, 955 units were assembled in Sprocket's Melbourne factory, then immediately delivered and installed by another Sprocket team at the stadium. Another successful Sprocket project launched.

DeLaval VPR 100 Dairy Tester

A highly sophisticated solution developed for DeLaval Sweden, the world's largest diary technology company in conjunction with our client and the system's designers Creative Product Design [CPD]. The VPR 100 dairy test device was designed to operate in the harshest of conditions, from -20 to +40 degrees, survive 1 metre drop tests and remain dry and operational under the full force of a dairy hose.
A truly formidable assignment. Sprocket's Cheryl Fraser again took on the challenge and developed a solution for CPD that is not only supremely robust and ergonomically sound it possesses a rugged elegance that perfectly reflects its function. The fact that sold in over 140 countries worldwide is testament to Sprockets design ingenuity.

Ariazone International 5001 RGR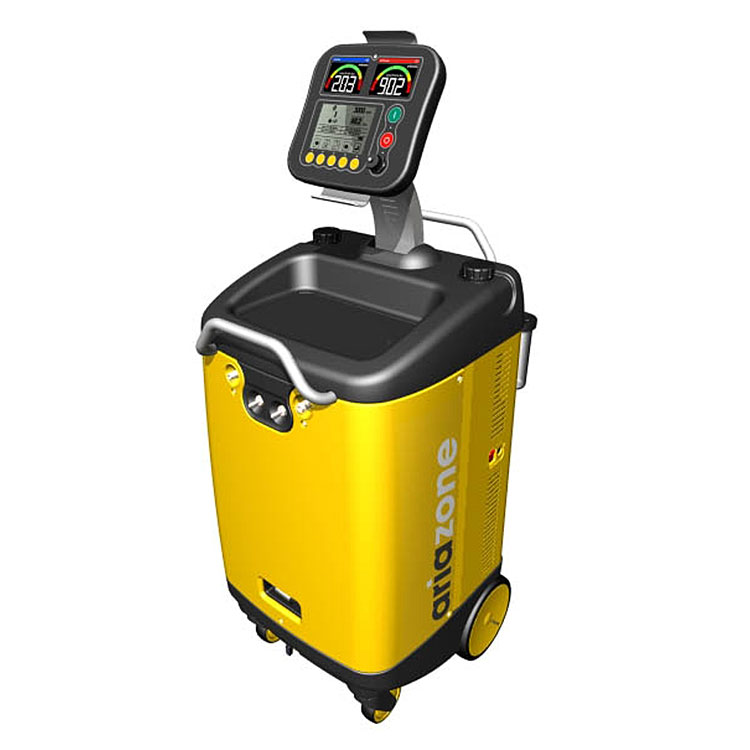 Ariazone International engaged Sprocket to develop series of refrigerant recovery and recharge products for automotive workshops both in Australia and internationally. Ariazone's products are currently used by manufacturers worldwide including Mercedes Benz, General Motors, Mazda Australia and Volvo Europe.
Our challenge was to develop a product that performed a complex but mundane task in a hostile workshop environment but at the same time project a sophisticated and technologically advanced image to customers and workshop visitors with similarly sophisticated motor vehicles. There was also the requirement to minimise initial production and development costs to allow a steady ramp up without massive capital injection until volume sales were achieved.

The Sprocket Process
The first step is to understand the project requirements. We consult with you in detail to understand what you are trying to achieve for your market and then develop your idea into a detailed requirements document that takes into account the must haves, the nice-to-haves and almost more importantly with technology based products, consideration of a path into the future… what might this become one day?
The Sprocket development team is highly skilled and resourced but it is knowing what is the best fit for our clients no matter if they are start-ups or global leaders that sets us apart.
It usually starts with paper and an open mind. Concept and sketches…lots and lots of sketches. And then collaboration. Minds come together and bounce ideas around and at Sprocket, it won't be long until the spark ignites. Having solved so many problems, we can find the right mix of custom made parts and OEM components (after all, why reinvent the wheel), principles and forces.
Then the real work begins, getting the concept into a 3D CAD model onto a computer. 3D Visualisation is an immensely powerful tool and countless hours will be spent fine tuning the concept on the computer to test every engineering principle. But there's no substitute for the real thing.
Next comes the prototype. Sprocket use 3D Printing for Rapid Prototyping, meaning we can turn a design into a real object in a matter of days. And now it's time to play with it. Test it. What works. What doesn't. With the real thing in our hands, we are starting to have the proof of that spark of an idea.
Then it's back to the computer. More fine tuning, perhaps another prototype, and finally a product emerges. That solves the requirement. Beautifully.
The Final Step
With an R&D and assembly base in Australia and our own manufacturing facility in China, Sprocket will shepherd your product all the way, manufacturing high quality components, incorporating OEM components and assembling them into the perfect whole.
More than any we understand the rigours of the public life of products and every solution we develop is matched to a material suitable for the purpose whether is injected moulded plastic, die cast aluminium or plain old fabricated metal. Life cycle and stress testing?…we can do the lot.
We support you all the way and our services don't stop at manufacturing… we can even install and maintain the finished product in the field.
Now that's really end to end…innovative ideas into stunning reality.