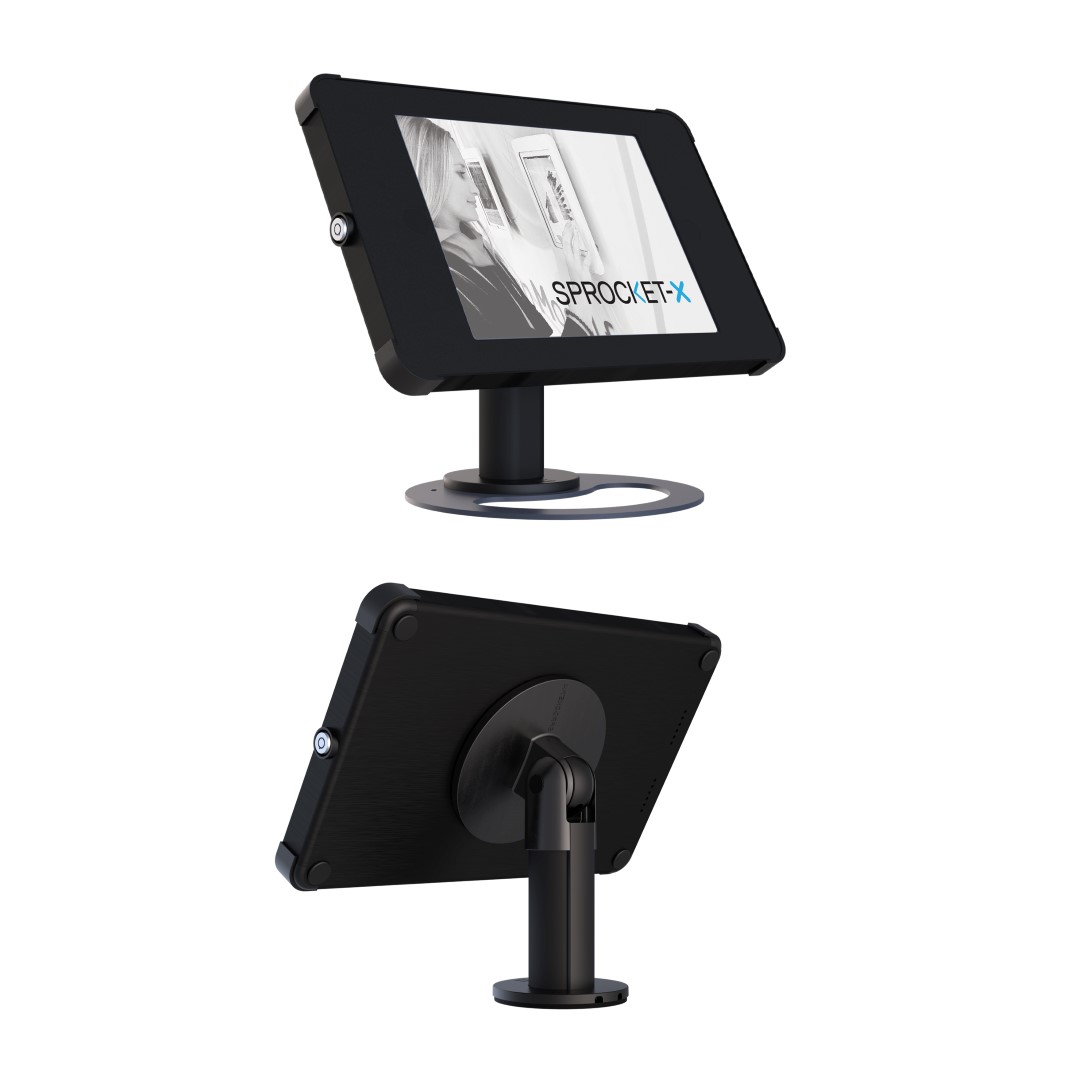 X Desk iPad and Tablet Stand
Sleek and understated our fully featured desk mounts and stands for iPad, Galaxy Tab and Microsoft Surface sit happily in any environment.
Featuring robust aluminium enclosures, concealed power cabling and key locks,  the modular Sprocket X system is deployed by businesses across Australia to provide self-service kiosk experiences and engage customers through digital content.
Designed, manufactured and stocked in Melbourne, Sprocket X supports the latest iPads, Samsung Galaxy Tabs and Microsoft Surface Models but is also unparalleled for it's ability to be customised.   The Sprocket Design Team can leverage unrivaled design experience and our local manufacturing base to design and manufacture custom enclosures for any tablet model or application within weeks.
Desk Mounting Options
[/playne_slide_image]
X Desk Dimensions and Specifications
Specifications
Features
Robust, key-locked Aluminium Enclosure
Restrict access to user controls without compromising ease of use.
Concealed power cable for permanent charging, easy access via snap fit cable cover.
Adjustable Viewing Angle – Tilt or rotate your tablet screen to an angle that works for you or lock off the features you prefer to be static.
Fast Assembly – Our kit based design methodology means your technology is assembled faster and installed smarter.
Corporate branding options.
Options
Custom body colour [standard is black]
Torx Security Upgrade Kit
Stainless steel or aluminium finish trim
Stereo speaker system
Installation
X Desk is mounted to the desk or table surface via the mount plate and four wood screws, or alternatively with the base plate upgrade the stand is assembled and stands freely on the desk surface.
Tablet fit chart
Check which secure enclosure fits your tablet
The table shows the standard range of tablets compatible with Sprocket X. See which enclosure fits your tablet, then click on the relevant tab to get dimensions for that model. Can't find your tablet model here? Contact us to find out if we can provide a secure tablet solution.

| Tablet model | 8 inch | 10 inch | 12 inch |
| --- | --- | --- | --- |
| iPad 10.2 [iPad 7th, 8th or 9th Generation] | | • | |
| iPad Air 4 | | • | |
| iPad 9.7 [iPad 6th Gen 2018, iPad 5th Gen 2017, iPad Air 2, iPad Air, iPad Pro 9.7] | | • | |
| iPad Pro 12.9 | | | • |
| Samsung Galaxy Tab S6 Lite, Tab A7 10.4, Tab A8 10.5 | | • | |
| Samsung Galaxy Tab A7 Lite | • | | |
| Microsoft Surface Pro 3, 4, 5, 6 & 7, Surface Pro 8, Surface Pro X | | | • |
| Microsoft Surface Surface Go 2 & 3 | | • | |
8 inch

*All dimensions are measured in millimeters
10 inch

*All dimensions are measured in millimeters
12 inch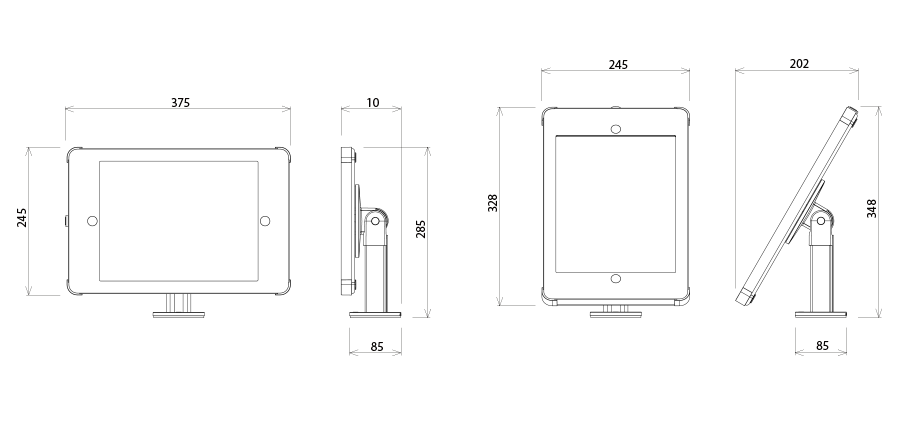 *All dimensions are measured in millimeters
If you can't find what you want or need more information fill out our enquiry form and we'll get right back to you as soon as we can.