Digital building directories are an effective way to direct your visitors to their final destination when they visit your premises – designed well, they are an instantly welcoming tool for Building and Facility Managers to use as a virtual concierge for their building.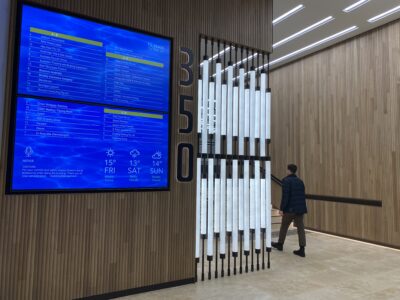 Building directories are moving rapidly from static displays requiring time-consuming manual updates to easy-to-update impactful digital building directories. Facility management teams are communicating with residents and tenants in real-time with eye-catching digital displays that are welcomed by tenants and impress investors alike. 
New commercial building developments are expected to include current technologies, visitor management and visual communication throughout. Investors are looking at plans and designs of the building and expecting to see tech-savvy inclusions. 
For commercial and mixed properties that are due for modernisation, static wayfinding directories requiring time-consuming updates and are often left unmaintained or not up to date with current information are being scrapped for good reason. They can be overlooked as a communication tool by management due to the time it takes to update and due to permanent residents, tenants and frequent visitors overlooking the static displays as they arrive to the premises each time. They have been overtaken by much more unique, interactive and intuitive digital wayfinding systems. 
Moving to digital, eye-catching displays alleviates this problem for dated facilities and effectively adds a new way to communicate messages quickly throughout the building. As facilities freshen up the interiors or renovate and modernise, moving to a digital building directory can enhance the look of a space and give the building a new tech-savvy appearance to potential investors and new tenants. Making a move to digital can breathe new life into what was an outdated foyer while enhancing the communication between building and facility managers and visitors to your premises. 
Building your new residential or commercial space with a digital building directory as part of the fit out will have your premises opening with the right tools on hand to create an impression right from the start.
A digital building directory makes a welcoming impression. 
As a tool for facility managers, digital building directories have advantages that far outweigh static building directories, and for visitors, they create a welcoming impression. 
Welcoming visitors with beautifully designed hardware that matches the aesthetics of an interior and enables them to identify the information they need immediately and easily creates an experience that helps visitors feel at ease when entering a new building. 
A digital building directory can include easy-to-navigate services that include:
Tenant location information

Wayfinding;

Real-time updates from the management;

Real-time updates from integrated apps (such as weather or news);

Welcome messaging;

Safety updates, including Covid messaging;

What's on messaging or even

Advertising. 
Fully-tailored initial programming allows each building directory a unique look and functionality. A fully branded digital building directory can allow for purposely chosen branding, imagery or video to be part of your welcoming messages. A totally unique welcoming solution for each location. 
Easy to navigate, visitors welcome interaction with a digital building directory to quickly find the information they need and filter information as required. For investors, the appearance of a tech-savvy building can help improve the appearance and drive sales. 
An efficient communication tool for facility management and body corporations.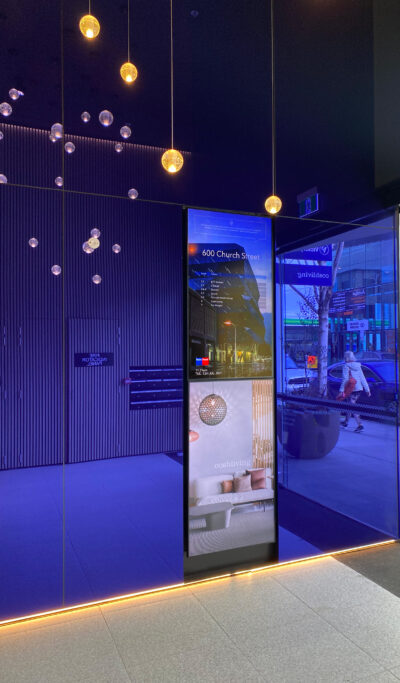 A digital building directory allows a facility not only to communicate where to find a location quickly but to update messaging within a few seconds instantly.  Managers are enabled with easy-to-navigate programming allowing for instant updates that may include:
Safety updates;

Body corporate messaging;

Community news;

Maintenance messages;

Upcoming news; 

Location changes or new tenant listings within the building;
By enabling building management to communicate with visitors instantly, a digital building directory can become an impactful way to attract attention to important messages for tenants and be a welcome concierge tool for new visitors. 
With software configured to each building's unique requirements, each building directory can be tailored to suit the individual needs of any facility. 
Why choose a SprocketGO  Digital Building Directory?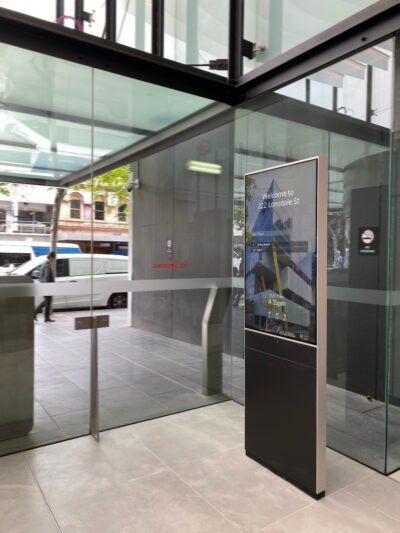 Sprocket digital building directories are designed to suit any interior aesthetically.  Our appreciation for design and quality means all our directories are purposely manufactured to add to a foyer's interior rather than detract from it. 
The ability to program a SprocketGO digital building directory to suit your needs allows your facility management team to determine the look, feel and programing abilities of your building. A welcoming addition to your building that also enables you to communicate with your tenants, residents and visitors quickly and easily. It is like having a direct link to each visitor and tenant in real-time. 
Our software is built with an industry-leading gaming platform and is fully managed by the SprocketGO team with remote updating of tenant information, thereby removing staffing overheads and training and ensuring the directory is always displaying current content. It is a true set and forget system.  The ability to create a stunning visual impact in minutes has revolutionised how building management welcomes visitors and how visitors interact with your building. 
Sprocket GO Live and GO Connect incorporate the latest technologies to deliver efficient, responsive and fast results that look great while they work. 
Our architecturally designed hardware is available in wall, recessed and free-standing models that offer a choice of finishes, designs and colours to please any discerning interior designer. Designed and manufactured in Australia, paired with our unique software, your facility is in good hands with our Australian team available for support anytime.