Visitor management is an integral part of welcoming visitors, contractors and staff into a workplace safely and efficiently. A self-service visitor management system implemented well can not only be a dynamic tool for your business, but it can also be a welcoming way to greet your visitors. 
Self-service visitor management kiosks allow workplaces to keep track of who is in the building for safety and security purposes at all times.  They can announce visitor arrivals to specific staff members as they check-in, without the need for any assistance from staff. They can also track and trace vaccination status as needed, check inductions are complete if necessary and allow for a considerable improvement in business tracking from the manual tracking systems of the past, with up to the minute data accessible at all times. 
The ability to welcome visitors efficiently by using up to date visitor management software paired with the right self-service visitor management kiosk can significantly improve workplace safety and reduce time spent manually logging visitor arrivals and keeping track of who is located within the premises at all times. Seamless check-ins can help reduce queues for visitors without the need for staff intervention as most visitors are completely comfortable and able to use them. 
How can visitor management improve efficiency? 
We have seen many businesses use tablet technology to help visitors check in to a location, recording vaccination status and log visit times. However, with some applications, the ability to improve efficiency with visitor management exceeds the expectations of businesses by taking it to the next level. 
For some, a simple check-in and vaccination check may be all that is required. For others, the ability to monitor inductions, permits and announce visitors to the correct staff members within a building automatically can enhance the whole experience for all involved, while improving efficiency. 
The Sprocket X tablet stands include the option to integrate a label printer, and sanitising station alongside your tablet. This combination allows the ability to use chosen applications that will check visitors in seamlessly and announce arrivals to the person who is expecting a visitor. It can enable those visitors to safely check-in and print a visitor label/badge instantly and safely with sanitiser ready to go between uses. 
By having visitor labels printed in-house staff can easily identify visitors as they work within and around the premises.  This is great for safety around the workplace and helps improve the comfort of employees within the workplace by allowing staff to easily identify visitors. By putting systems in place to assist visitors check-in independently, the in-house staff can instead meet and greet, while visitors manage their own check in to the building and announce their arrival through the tablet and technology on hand. 
Brother & Sine Visitor Management
Logins and visitor records are automatically available through easily downloadable information, meaning any time information is required, it can be reached within minutes with powerful reporting tools.  Having these reporting tools available, businesses can make data-driven decisions made on the evidence at hand, instantly. 
Safety in the workplace. 
Security and safety in the workplace is a large consideration for every business as they navigate their way through visitor management procedures. As well as recording and processing visitors in the workplace it is also essential to measure and track that all visitors have been inducted properly for many workplaces. 
Self-service kiosks for visitor management, paired with the right software applications can help a business manage:
Contractor visits;

Welcoming visitors; 

Workplace safety and compliance;

Staff check-ins;

Permits, inductions and access requests;
By pairing specific applications with the Sprocket X tablet enclosure system businesses can correctly ensure the compliance of each visitor. With up to date software and systems your tablet can easily adjust based on the compliance regulations and restrictions required by government or workplace bodies making it an easy automated process for workplaces to stay up to date at all times. 
End to end visitor management systems require software to suit each business's needs, however, one thing is certain, a self-service visitor management kiosk with the right supporting elements can make a big difference to the success of a visitor management system within the business.
Choosing software for your visitor management system.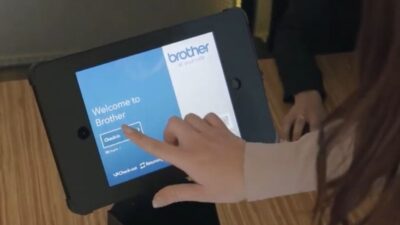 When choosing software to suit your business's visitor management procedures, there are a few key considerations that could make a big difference to the longevity of your investment.  With many software options available, our handy checklist just may help you on the way to finding the most effective software that meets your individual requirements for a visitor management system:
Would your workplace benefit from seamless check-in paired with direct to staff visitor announcements?

Is reducing queues a priority?

Could visitor badges improve security in your workplace? 

Is the software updated automatically and regularly? 

Are workplace compliance requirements easily updated or added as needed?

Is the software flexible to allow integration with other workplace tools?
Visitor management software has many features that can see a business's workflow, visitor management and safety systems improve dramatically. Finding the right software for your business requires some planning and forethought to enable you to get the most out of your investment while improving your visitor's journey and increasing compliance levels and safety for your business. 
Look for software that will allow your business to remain compliant even as rules and needs within the workplace change, flexibility and up to date implementation of new features as they are required to be easy to navigate within your workplace. With many options out there, the options are endless, paired with the right hardware and with the right systems in place we are confident your business will welcome the change to a self-service visitor management kiosk.
Things to consider when choosing your kiosk hardware.

Kiosk hardware needs to be flexible, adjustable and secure. When your valuable and sensitive information is being used in public settings security is paramount in protecting your investment of hardware and data, while allowing for ease of use for everyone and allowing the functionality you need to get the most out of your investment. 
When choosing hardware for your self-service visitor management kiosk you need to consider:
How is the tablet kiosk secured from theft or damage? 

Are you able to lock off the features you prefer to be static, such as camera, volume and power controls? 

Is your hardware inclusive and DDA compliant with adjustable viewing angles?

Is your hardware fully adjustable whilst allowing power cables to remain hidden and undamaged?
Our solution. 
Sprocket's X+ Label series of iPad and Tablet stands with integrated label printer is compatible with iPad, Galaxy Tab, Microsoft Surface and many other tablets on the market, allowing you to mount your tablet in public and commercial environments with first-class functionality, security and style with features that include:
Fully concealed cabling;

Keylock security;

Dynamically tilt and rotate between portrait or landscape or lock in place;

DDA compliant;

Label printer dock; 

Hand sanitiser station;
With custom solutions available, a Sprocket X visitor management system can be fully tailored to your brand and needs – chat to our team about a customised, made in Australia solution. 
Is it time to look a little closer at a Sprocket X solution?