First impressions count. Make the transition from the lobby to the chosen destination seamless for visitors and impress with SprocketGO. A digital building directory is all about the comfort of visitors as they visit your premises and the efficiency for the building management team.
Building design is an art form that is constantly changing with the addition of new technology, new trends and environmental factors are introduced quickly at a phenomenal rate. However, one thing that never changes is the need for people to be able to move effortlessly throughout a large building. 
The visitor journey.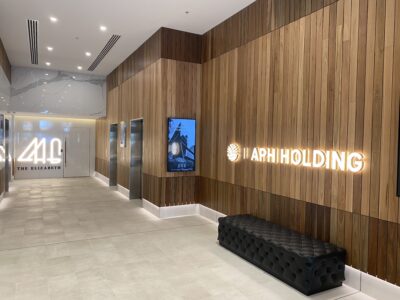 The visitor journey is an essential factor in the planning and architecture of a building along with the interior design. With the lobby, entrance ways, hallways and elevator foyers having elevated design features throughout, beautiful design impresses; visitors getting easily misplaced does not. 
While a building may impress with its looks, building directories are what helps make the visitor's journey that little bit more comfortable as no one wants to waste time trying endlessly to find their way (even if the building is stunning)!
Wayfinding is a consideration for every building, with designers and building management coming together to determine how best to welcome new visitors into the building. When looking at building directories to help improve the experience of visitors some of the below questions are closely looked at to help determine the best way to assist visitors to their final destination comfortably.
How do visitors arrive at the building (are there multiple entry points or one main lobby)? 

Is there a concierge or do visitors essentially find their own way? 

What type of tenants are in the building (residential or commercial)? 

Are there multiple storeys or structures within the premises? 

How often do tenants within the building change as leases end? 
Building directories can seem quite complex when the answers to those questions are closely studied, but they do not need to be. With an investment in a building directory system that is as fluid as your building's tenants and as beautiful as your interior, the visitor journey within your building can make a valuable impression on new tenants and visitors alike. 
Digital building directories for up to date wayfinding.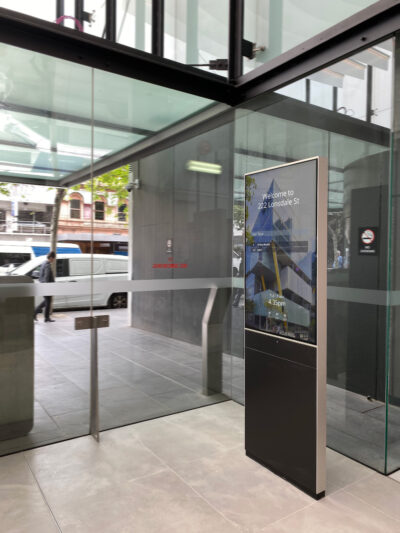 Having a building directory that can easily be updated with new information as tenants come and go adds extensive value to the building. Interruptions to information are minimal, with changes requiring only a quick update to software by the Building Manager or Owner. A SprocketGO Building Directory allows interaction with visitors that gives seamless direction to their destination and building management the ability to cut costs on concierge services as visitors efficiently use the directory in their own time to find their way. 
Interior design is a key factor in most buildings initially, with foyer and immediate visitor destinations attracting the most attention during the design phase. There is little doubt this makes the most significant impression on new tenants as they both browse design plans before investing in the building and arrive at the location as it is completed.  The importance of these designs is why we work closely with designers and architects to ensure our building directories not only get people where they want to go, they also fit beautifully into the interior design of the building itself. 
Elegantly designed and beautifully engineered, a SprocketGO digital building directory can be a value-adding feature built to fit seamlessly within your new or existing interior design. 
Digital visitor management. 
As practically everything goes digital, visitors also expect building directories to be up to date with to-the-minute information on hand at all times. Finding a digital building directory that suits the aesthetic of your building while meeting the needs of building management and visitors requires an understanding of the real difference between design, quality and, most importantly, the software that meets, greets and informs the visitor to your building. 
The SprocketGO building directories are state of the art, affordable, designer solutions to visitor management. Backed by a team of designers and programmers located here in Australia, SprocketGO solutions include easily updatable interfaces branded to suit your building aesthetic. Locally manufactured and having sleek hardware that can be updated remotely, your visitor's journey will consistently be on-point as tenants and building details change. 
Flexibility is key when it comes to software for digital building directories. SprocketGO has developed the latest and most innovative digital directory software on the market today, so when you have questions about wayfinding, it pays to get in touch with us.