The residents of IRT Thomas Holt Retirement Village enjoy personalised residential care in a safe, welcoming community that looks to improve the lives of older Australians. A relatively new location for IRT, they expanded their community to include this new location at Kirawee, NSW just a few short years ago and discovered the entertainment and communication system for residents was not working at its best, so IRT reached out to Sprocket to discuss a solution.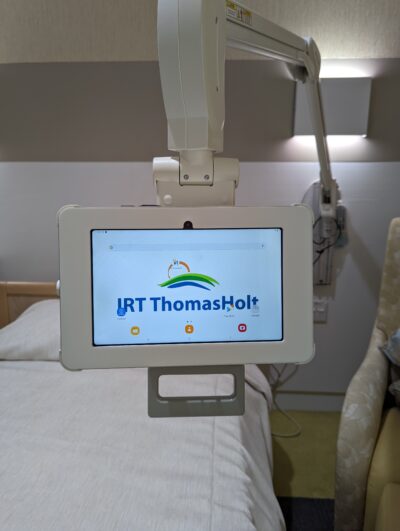 THE UNIQUE CHALLENGES.
Bringing connection and entertainment into the daily lives of IRT residents was a big priority for Raulan Grajewski, System Administrator-IT Technical Services for IRT.  The retirement community had inherited some obsolete Windows tablets when they took over the location. However, the previous units no longer held power or were suitable for the specific App that IRT residents use to communicate with family members outside of the community. 
As a result of some successful previous projects, Raulan received a referral to us, resulting in conversations between the Sprocket team and IRT beginning. The main challenge was to create a tablet enclosure for the new android Samsung tablets IRT required for the residents and to ensure the tablet enclosures would retrofit an existing fitted arm that was already existing in residents' rooms. 
The new location IRT facilities had included an existing fitted arm when they took over the residency, it is an arm that is able to reach over the bed and after the new tablet enclosures were produced would become a flexible solution to provide a platform for a new entertainment system for the residents. With the opportunity to repurpose these adjustable arms for the new, improved entertainment system, the IRT team and Sprocket discussed creating a bespoke housing solution for the newly acquired Samsung tablets that would provide the ability for full use of the tablets in the way that was required for entertainment and IRT's custom App. 
With most tablet enclosures primarily used for entertainment, they require landscape mode only, meaning no movement is necessary to portrait. At the beginning of the project, this is what IRT had in mind. However (a little last-minute, admits Raulan), the realisation came that the specific App used by IRT required a rotating mechanism to allow for the use of the tablet in portrait mode, as the software of the IRT App was coded only for use in portrait mode. Our team had to pivot quickly to develop a rotating mechanism that would not only give IRT the full solution they required, but the safety features required in ensuring any cables were safely tucked away and not in any danger of damage as the tablet enclosure is rotated regularly. 
Despite being unable to work closely due to extensive travel restrictions and lockdowns that were occurring in both Melbourne and Sydney during this project, online meetings and videos between the teams got us to the point where a solution to the unique challenges this project had presented us with had been met, even with some truly unique solutions being required. 
THE SPROCKET SOLUTION.
We worked in conjunction with the IRT team to have some detailed images and measurements taken of the existing flexible arm, which allowed our team to develop an in-depth initial design brief. Without being able to travel to develop the project as may typically happen, the requirements needed to be met by creating detailed plans and prototypes for the tablet enclosure that included features such as:
3D printed repeaters to allow residents access to volume and power outlets that are often (for security purposes) fully enclosed within tablet enclosures; 

Rotating mechanism that allows easy switching from portrait to landscape modes while allowing power cables to remain secure and undamaged;

Bespoke retrofitted attachment to suit existing flexible arms;

Hardwearing aluminium tablet enclosure to fit the Samsung android tablets;

Cable management system;
Despite our hopes of being able to connect with the IRT team personally, our solution ended up being produced entirely from a remote perspective during the unique circumstances of pandemic lockdowns and extensive travel restrictions within our states.  The finished product was a solution that meets the needs of IRT residents in terms of providing entertainment and full usage of the IRT App.  For IRT the Sprocket solution allowed for the re-purposing of existing flexible arms, saving costs and providing a solution that allowed for greater accessibility for the residents. 
Almost 75 units were delivered to IRT, in New South Wales after being manufactured at Sprocket in Victoria from primarily locally sourced materials.  Working in conjunction with a trusted installer local to IRT the tablet enclosures were recently installed successfully after a project that had been completed entirely remotely. 
LOOKING FORWARD.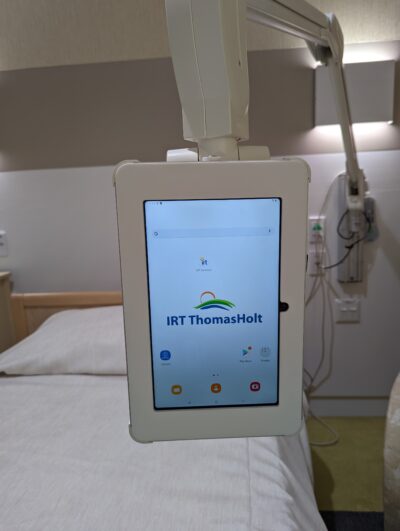 We recently spoke to Raulan after installing the custom tablet enclosures. He said "Despite the inability to work together in person, the project ran smoothly with the help of video conferencing, clear communication throughout, and detailed prototypes.  We did throw a curveball when we realised toward the end of the project our tablet enclosure needed to rotate. Still, thankfully the Sprocket team was very accommodating and took the challenge in their stride to develop a unit that has given us a great result! The residents and the IRT team are very pleased with the results". 
THE SPROCKET DIFFERENCE.
The ability to work remotely to meet clients' needs successfully is one of the strong points of working with our team. Our extensive experience has given us the knowledge to work with the foresight that others do not have.  Where we can make non-essential travel a thing of the past while still keeping the project on time and on budget confidently, we will.
While our on-range tablet enclosure solutions provide a great 'ready to ship' option that suits most, we know a custom solution is sometimes necessary and it's not out of reach for businesses large or small.  Being able to create projects from start to finish, concept to manufacturing entirely in-house at our Melbourne premises we are able to provide complete flexibility when it comes to unique requirements. We can also pivot quickly when necessary to ensure any bumps in the road (on this occasion the last minute need to enable to the unit to pivot) are smoothed out with a quick solution and a welcomed outcome. 
Our extensive knowledge of current tablets and tablet enclosures allows us to easily modify our existing product designs to meet the specific needs of any client, including 3D printed buttons to allow access to certain ports or features on the tablet where required or added security features depending on the client's needs. 
If it is time your business looked into the solution you have been considering to improve the way you work reach out to us to arrange an initial chat.