Bringing the ecommerce world to life with tablet solutions providing the gateway in bricks and mortar stores.
With a big dream of bringing the digital space to face to face retail Litmus Lab has been changing the way people shop lifestyle products since 2018. With the pandemic unexpectedly arriving in Australia, some stores were affected during rolling lockdowns, but one thing is for sure, Covid sure has changed the way people look at shopping online and Litmus Lab is ready to show shoppers just how they can get the best of both worlds as retail spaces open up to visitors again and restrictions ease. 
Prior to the pandemic, Litmus Lab had launched in multiple sites across Australia with an innovative approach to shopping that would bring the public into line with retail trends seen across Europe and the US for years prior. 
Passionate about innovative digital products themselves Dene, co-founder of Litmus Lab says "we were looking for a way to bring these sophisticated products, often found only online into the retail space where brands could benefit from getting in front of large amounts of foot traffic, we know that's where many shoppers make their purchasing decisions". 
Knowing many shoppers like to touch, feel and try products before they return home to complete their purchases online the team at Litmus Lab were looking to bring the process together for one satisfying retail experience for shoppers and great results for brands. Essentially opening the gateway between e-commerce and bricks and mortar stores. 
THE UNIQUE CHALLENGES.
Creating a bespoke tablet enclosure for Litmus Lab has been a process that has evolved, as has the business since 2018. Initially Dene and his team were attempting to work with an off the shelf solution with another company that just wasn't cutting it in terms of performance and style that they were looking for.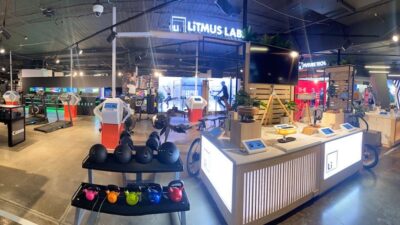 The challenge was finding a partner that could provide them with a solution to fit their need and could produce a bespoke solution with the minimum order quantities they required. As Dene and his team came to us for a completely custom unit for their business our in-house design and engineering team used 3D print technology to produce a prototype for Litmus Lab within days of the concept being developed.  The ability to move quickly through the prototyping phase using this technology allows us to test and overcome any design challenges we may run into during the design phase, and quickly move into the manufacturing phase. 
With each product in the Litmus Lab retail space requiring its own tablet enclosure; effectively its own digital sales team the requirement for each retail space is approximately 30 per site. Spanning across bespoke desktop tablet enclosures and floor stands, it is essential that the Litmus Lab partner is able to supply solutions that can evolve and grow as the business does. 
THE SPROCKET SOLUTION.
Litmus Lab has discovered that Sprocket is a valued partner when it comes to ensuring their business is retail ready at any point of time.  With the unique mix of bespoke solutions and stylish solutions from the current Sprocket range being manufactured right here in Melbourne it allows Dene and his team the ability to have their needs met quickly and easily with quality enclosures they know suit their individual needs. 
After working with Sprocket for the past few years Dene says "Gerry and Simon have never skipped a beat, we have had every order delivered on time and in full; every time.  The guys at Sprocket just 'get it'. They solve problems you didn't even know you had, before they happen". 
Being able to provide a flexible approach to Litmus Lab requirements has helped see this partnership and the business grow quickly over the past two years with stores opening up in almost every state of the country. 
The Litmus Lab Sprocket X Floor tablet enclosures include:
Robust aluminum casing;

Concealed power cabling;

Adjustable viewing angle – tilt or rotate the screen anytime;

Fast assembly;

Can be bolted in place for extra security;
The Sprocket X Floor solution is available as standard and is used by Litmus Lab continuously where larger freestanding tech savvy products are located around their retail space, a great way for customers to try the product while they purchase online and connect with that particular brand in new and engaging ways. 
The counter tops at Litmus Lab are not like your ordinary sales counters, dotted with innovative products amongst the custom Sprocket tablet enclosures created specifically to meet the technical needs of the Litmus Lab team and to enhance the shopping experience for the end user.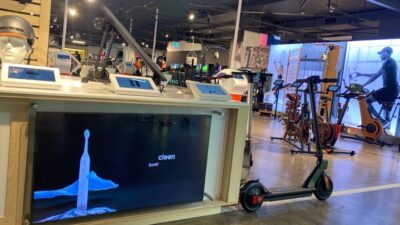 The unique Litmus Lab tablet enclosures include features such as:
Custom vacuum form enclosure;

Concealed power cabling;

Stationary design, suited best for customer use in store;

Designed for easy install and secure fixing to existing store fixtures;

Slick white design, inline with Litmus Lab branding; 
With over 9 locations Australia wide and seeing foot traffic in excess of 100,000,000 prior to the pandemic the tablet enclosures seen in retail spaces aligned with Litmus Lab have to be hardwearing, stylish and be easily accessible when the business is ready to make the jump and take advantage of the next opportunity to reach the Australian public. 
LOOKING FORWARD.
With plans to expand as foot traffic looks to explode when restrictions ease in the eastern states Litmus Lab are ready to connect with shoppers that have embraced the process of ordering online more with more time spent in lockdown these past few months.  The team here are ready to produce their sophisticated bespoke tablet solutions as required in what is generally considered low volume by many in the industry.  
Passionate about keeping custom solutions achievable for businesses and support the Australian workforce, the Sprocket team are always ready to support Aussie businesses in their journey to bring technology to the general public and for Litmus Lab who "live and die by user experience" says Dene we hope to partner with them throughout what is destined to be a unique retail experience more and more people begin to embrace. 
THE SPROCKET DIFFERENCE. 
Many businesses make the mistake of thinking a custom solution is out of their reach.  Working with tablet enclosures and technology accessories that are available off the shelf can lack the quality and style that many businesses are looking for. 
The Sprocket team have always looked to make custom solutions available as much as possible to all businesses whilst we also look to make the solutions that suit most; available as stock items, meaning your business can benefit from our unique knowledge, know-how and passion for styling in every unit.  As a business you can rest assured our 'off the shelf' products include features that started off as someone else's 'custom' solution. 
The best of both worlds. 
LOOKING FOR A SOLUTION?
Browse our range now. Can't find what you need specifically? Get in touch, we will almost certainly be able to come up with a solution.