Not everyone is happy to check in and some have no idea how – Woolworths makes moves to overcome the concerns of their valued customers.
When the need to identify our attendance at workplaces, social spaces and supermarkets became an important part of helping contact tracers measure movements of people during the pandemic in 2020 the use of QR codes and manual check-ins became the norm everywhere. 
As NSW moved into hard lockdowns in 2021 the Woolworths team, along with the state government identified the need to fast track the check-in process for those without smartphone capabilities and Woolworths looked to creating a more accessible way to check in safely that was inclusive for all visitors to their stores. 
THE UNIQUE CHALLENGES.
Facing a problem no Australian retailer had ever had to overcome, Woolworths were now looking to ensure each and every visitor to their stores, particularly in those communities in the worst affected areas could check in safely through the government app with a system they were comfortable using themselves (or with staff assistance).  They were looking for a solution that would give customers peace of mind as well as ensuring they were complying with government regulations and recommendations to remain open safely during this time. 
Alleviating the problem of manual check-in systems, Woolworths would require a tablet stand and sanitiser station that would see them become one of the first Australian retailers to move to this particular system.  A bespoke unit was designed for the Australian retail giant that would meet the particular needs of themselves as a business, and those of their loyal customers.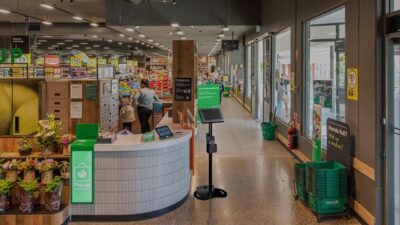 A more convenient and welcoming tablet stand with integrated sanitiser station is now located at the entranceway of those stores in the hardest hit areas, replacing the manual check-in systems used previously. Placed in the most accessible location for each store, the portable unit includes custom signage with clear instructions for all and the offer of assistance from store staff. 
Woolworths needed a tablet enclosure that was different to our existing units in the way that they needed to be fully transportable throughout the store and able to be powered by their own individual power banks for 20+ hours at a time. They needed to stand alone and be quickly identified by the customers as a tablet kiosk, sanitiser station and check-in system, with check-in, a required step for entering each store. 
THE SPROCKET SOLUTION.  The Sprocket team worked closely with Woolworths to produce a secure tablet stand that would house their existing ruggedised Zebra ET51 tablets and allow for quick replacement of sanitiser bottles throughout the day. The final product was a unit that is completely bespoke and suited entirely to Woolworths individual needs. 
Completely portable with a bespoke power pack and hidden cabling, this tablet stand and sanitiser station was delivered with a custom signage solution.
The tablet enclosure and stand was designed from scratch to meet specific requirements of the retail giant that included:
A completely mobile tablet kiosk to allow for positioning around the entrance to the store;

Powered and non-powered capabilities;

Power pack port to allow for 20 hours of cordless use;

Integrated Security Tether;

Hand sanitiser bottle holder integrated into the stand;

Designed to meet all OH&S standards;

Comfortable and easy to use for customers;

Welcoming and easily identifiable as a check-in point;

Bracket for branding and signage interchangeable by Woolworths.
By introducing a secure tablet enclosure and stand to 80 stores across the worst affected states including Victoria and NSW, Woolworths is helping to ensure more visitors to their stores will not only be able to, but feel comfortable checking in.  Using the existing government app on their Zebra tablets within the secure enclosure, customers are now able to enter their details directly into the system for quick, immediate sharing with contact tracers.
By using a tablet stand and secure enclosure the number of customer touchpoints are reduced when compared to manual check-in systems allowing easy cleaning between use by customers or staff and easing the anxiety that is often seen with shared areas in these uncertain times. By integrating a hand sanitiser station it makes a welcoming addition to the Woolworths entranceways.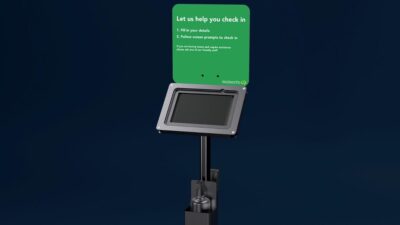 With welcoming custom signage added to these Woolworths tablet stands, customers are able to easily identify how to check in safely when they arrive at the store and are offered the assistance of store staff. 
The materials used in the tablet enclosure are purpose built to be sanitsed as a high-volume touchpoint without damage to the unit. Essential controls are hidden behind the secure enclosure touchpoints have been kept to a minimum to reduce risk of contamination when checking in. 
LOOKING FORWARD.
The worst affected communities to welcome the new check in system.  
With the rollout of the bespoke tablet stand underway in October 2021 we look forward to hearing how communities have welcomed the change to a more convenient check in system as they visit their local Woolworths. 
"From initial brief to delivery, the attention to detail and high level of communication throughout the project by Sprocket has enabled our teams to focus on the safety and wellbeing of our customers when visiting our stores while the Sprocket team focused on the details".  Andrew Harley, Woolworths Senior Marketing Manager – Customer Projects, Supermarkets.
OUR DIFFERENCE. 
These uncertain times have brought us all unique problems that require rapid solutions.  As the world pivots quickly at every turn to work toward safely opening up our communities again it was our pleasure to be able to help Woolworths make a difference in the worst affected regions of Australia with a bespoke tablet enclosure unique to their business. With a quick turnaround of just six weeks from concept to completion, the agility and flexibility of the Sprocket team was once again tested, successfully. 
LOOKING FOR A SOLUTION?
Looking for a custom solution to enrich your customers journey? Reach out to our team now.