Today's technology is focused toward ease of use, connectivity and security with a clear direction toward innovation and customer confidence. As we work to improve the customer journey and businesses efficiency together, many businesses have made the move to incorporate the use of touch screens into their processes with a clear escalation in usage since the pandemic began in 2020.
"Businesses and organisations have been forced to do away with paper-based systems and implement digital technology during the pandemic to improve efficiency on site and to meet government compliance during the Covid age. In the past 12-18 months we have seen businesses move to tablet enclosures with integrated sanitiser stations to ensure they are ready to get back to business as the economy opens up again when lockdowns ease, and visitors return" Simon Rasheleigh, our resident tablet enclosure specialist.
Not only a welcoming tool to many visitors, touch screen and iPad technology can help maintain the efficiency of self-serve procedures while integrated sanitiser dispensers can simultaneously reassure customers and visitors of their safety, instilling the confidence they need to continue to use touch screen technology safely.
When customers or clients visit your retail store or place of business most are ready and able to make the use of technology to improve their visit; but how do you incorporate touch screen tablet technology during a pandemic and retain customer confidence when touchpoints often accompany visitor uncertainty?
Working together.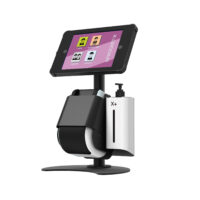 Understandably for many, leaving home during the pandemic can invoke feelings of uncertainty and an unwillingness to participate in using touch screens and surfaces that run the risk of being contaminated. These processes are often crucial to the safety of customers with checking in and potential directional functions an important part of the customer journey.
As we all work to enable ourselves to work and function as normally as possible during the pandemic, the immediate concern to both staff and visitors to a shared public area is the use of high traffic areas and touchpoints such as ipads and tablets and the immediate comfort and safety of visitors. Introducing measures to help make customers and visitors feel comfortable and safe when visiting is an important step to showing you care about their health and safety.
The solution.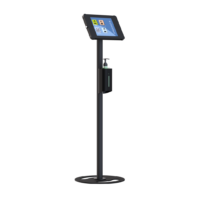 With businesses looking to use a secure tablet enclosure as a customer check in, kiosk or commerce tool, a touch screen, ipad mount or stand can be part of the customer journey that not only requires consistent cleaning but also an inviting, convenient functionality to invite visitors to regularly sanitise before and after use of that high traffic area.
The Sprocket team has worked with many of our existing customers to introduce hand sanitiser stations that can be incorporated with secure tablet enclosures and display stands to give visitors the confidence to use the tablet or iPad safely and confidently.
While working on custom hand sanitiser stations we have also created a range of ready to go solutions that include:
Stand alone hand sanitiser stations
Branded hand sanitiser stations
Counter top sanitiser dispensers
Wall mount sanitiser stations
Hand sanitiser refills
Integrated tablet enclosures & sanitiser systems
The Sprocket team looked closely at how best we could enable businesses to use tablet technology and hand sanitiser stations in a way that helps improve customer confidence without compromising the style and feel of their interiors.
With touch screen technology usage increasing over the past 12-18 months we looked to help businesses continuously use touchscreen technology by assuring visitors of the safety and regular sanitisation of those tools within their premises. By providing easily accessible and identifiable sanitiser stations to customers and staff alongside tablet enclosures, the Sprocket tablet stands with integrated hand sanitiser were created to help make visitors to businesses feel as comfortable as possible.
Design & functionality.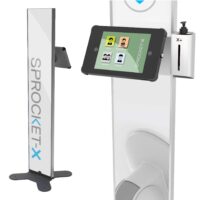 Sprocket has been providing some of Australia's biggest businesses with secure tablet and ipad stands long before the pandemic, our designs are created to fit in with the most stylish spaces as freestanding units and our tablet mounts have increased efficiency for many businesses. Our range is ready to purchase easily online in minimums as low as one piece, enabling even the smallest businesses and community groups to access stylish, durable and secure tablet enclosures with integrated sanitiser stations.
The importance of hand sanitiser stations alongside touch screen technology is fast becoming something we see as being part of life from here on in, it was important to the Sprocket team to design hand sanitiser stations for businesses that not only improved customer confidence but also fit within the design elements of a space in a sleek and stylish manner.
Our design team have considered the customer journey thoroughly when designing our range of hand sanitiser dispenser stations. With options that include:
Integrated tablet enclosures
Clear and concise signage systems
Durable designs for longevity
Customisable to suit your brand
We know every business is unique and so are we; that's why we are always happy to chat about a custom solution to suit your requirements.
Sanitiser stations to suit your space.
With many options available to utilise Sprocket sanitiser station solutions in conjunction with your existing kiosks and tablet enclosures the opportunity to create a seamless transition into Covid safe functionality without the need for using poor looking off the shelf sanitiser bottles is very much in your hands. Our hand sanitiser stations can be added to many of our tablet enclosures or used alongside your own with models that include:
Pedestal sanitiser station
Desk tablet mount sanitiser station
Wall mount sanitiser dispensers
iPad enclosure and sanitiser station
Designed to provide a safe and welcoming entrance for your visitors and to enable customers to feel safe and comfortable using touch screens, our range of hand sanitiser stations, sanitiser dispensers, integrated tablet enclosure and sanitiser station and sanitiser refills provide a user-friendly option for every business.
Available online or as a custom solution designed to suit your individual needs, our team is passionate about making products that support the technology your business needs; alongside the customer safety and comfort that everyone needs.
Supporting local.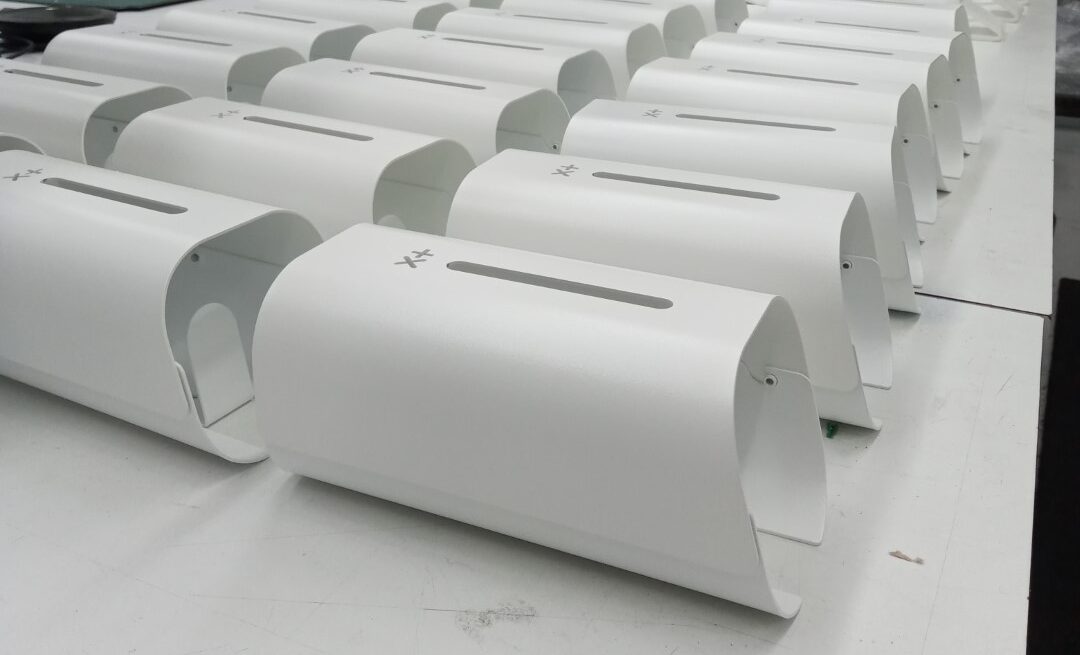 During this time we look to support Australian business to get back on their feet, all our designs are created in Melbourne with materials sourced locally.
View the full range HERE now.